Make My Day, Punk!
I safely arrived in Florida yesterday afternoon, but how safe I am, now that I am here, has become somewhat more problematic.
Back off, buddy, I'm packing!

This past Tuesday, both houses of the Republican controlled Florida Legislature passed what is becoming in popular parlance known as the "open fire" law. The new "anti-crime" measure will allow Florida residents to open against anyone they perceive as a threat in public, instead of having to try to avoid a conflict as under prevailing law.
Florida has long been rather open-minded about citizens' right to protect their property, allowing residents to "shoot to kill if their property, such as their home or car, is invaded by an unknown assailant." But it also states that if a resident is confronted or threatened in a public place, he or she must first try to avoid the confrontation or flee before taking any violent step in self defense against an assailant.
The new law, which is supported by Governor Jeb Bush who has said he intends to sign the bill, was actively supported by the National Rifle Association. Governor Bush describes the law as "a good, commonsense, anti-crime issue."
Let's say I find myself in a barroom argument, apparently now the object of my rhetoric has the inalienable right under Florida law to blow my head off and walk away without any accountability.
Charles Bronson would be proud.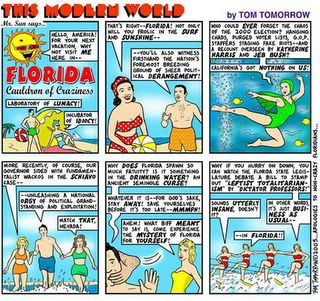 Click on image to enlarge